Chevrolet Captiva Service & Repair Manual: Battery Cable Terminal End Service
Caution: Use protective gloves and eye protection.
Caution: Perform procedure in a well ventilated area.
Caution: Refer to cautions and warnings listed on battery.
Caution: Do not allow baking soda solution to enter vent holes, as damage to battery can result.
| | |
| --- | --- |
| 1. | Remove battery from vehicle, as required. |
| | |
| --- | --- |
| 2. | Clean top of battery (3) with a solution of warm water and baking soda (2), Fig. 1. |
| | |
| --- | --- |
| 3. | Apply soda solution (2) with a bristle brush (1) and allow to soak until acid deposits loosen, Fig. 1. |
| | |
| --- | --- |
| 4. | Rinse soda solution from battery with clear water and blot battery dry with paper toweling. Dispose of toweling in a safe manner. |
| | |
| --- | --- |
| 5. | Inspect battery case and cover for cracks, leakage or damaged hold-down ledge. Replace battery if any damage is evident. |
| | |
| --- | --- |
| 6. | Inspect battery tray for damage caused by acid from battery. If acid is present, clean area with baking soda solution. |
| | |
| --- | --- |
| 7. | Clean battery posts with a battery post cleaning tool (1), Fig. 2. |
| | |
| --- | --- |
| 8. | Clean battery cable clamps (2) with a battery terminal cleaning tool (1), Fig. 3. |
| | |
| --- | --- |
| 9. | Replace cables that are frayed or have broken clamps. |
| | |
| --- | --- |
| 10. | Install battery into vehicle, as required. |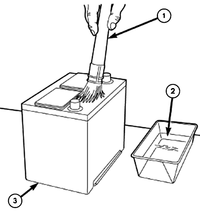 Fig. 1 Battery cleaning procedure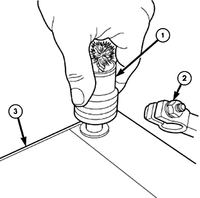 Fig. 2 Battery post cleaning procedure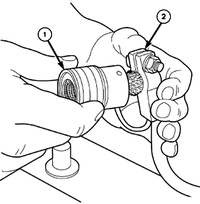 Fig. 3 Battery clamp cleaning procedure
Chevrolet Captiva Owners Manual
Chevrolet Captiva Service & Repair Manual
© 2023 Copyright www.ccaptiva.com - 0.0064