Chevrolet Captiva Owners Manual: Fuses and Circuit Breakers, Engine Compartment Fuse Block
Fuses and Circuit Breakers
The wiring circuits in the vehicle are protected from short circuits by fuses. This greatly reduces the chance of circuit overload and fire caused by electrical problems.
There are two fuse blocks — the engine compartment fuse block, and the instrument panel fuse block.
To identify and check fuses and relays, refer to the Fuse Usage Chart on the inside surface of the fuse panel door or cover.
Engine Compartment Fuse Block
The engine compartment fuse block is on the right side of the engine compartment, near the battery.
Caution
Spilling liquid on any electrical component on the vehicle may damage it. Always keep the covers on any electrical component.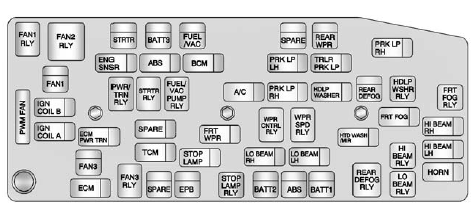 The vehicle may not be equipped with all of the fuses, relays, and features shown.