Chevrolet Captiva Owners Manual: Windshield Wiper/Washer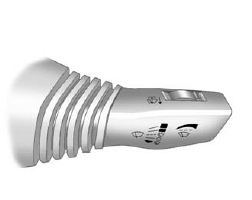 The windshield wiper lever is on the right side of the steering column.
Move the lever up or down to select the wiper speed.

: Single wipe, briefly move the lever down. The lever returns to its starting position when released. For several wipes, hold the lever down.
: Turns the windshield wipers off.

: Sets a delay between wipes.
Move the switch on top of the lever left for less frequent wipes or right for more frequent wipes.

: Slow wipes.

: Fast wipes.
Windshield Washer
Pull the windshield wiper lever to spray windshield washer fluid and activate the wipers. The wipers will continue until the lever is released or the maximum wash time is reached.
Rear Window Wiper/Washer
The rear wiper and rear wash button is on the instrument panel above the climate control system.

: Press to wash and wipe the rear window.

: Press to turn the delayed wiping on or off.
See Windshield Wiper/Washer on page 5-3 and Rear Window Wiper/ Washer on page 5-4.