Chevrolet Captiva Owners Manual: License Plate Lamp, Replacement Bulbs
License Plate Lamp
To replace one of these bulbs:
Remove the two screws holding each of the license plate lamps to the fascia.
Turn and pull the license plate lamp forward through the fascia opening.
Turn the bulb socket counterclockwise and pull the bulb straight out of the socket.
Push the new bulb into the bulb socket and turn it clockwise to lock it into place.
Push and turn the license plate lamp back through the fascia opening.
Reinstall the two screws holding the license plate lamp to the fascia.
Replacement Bulbs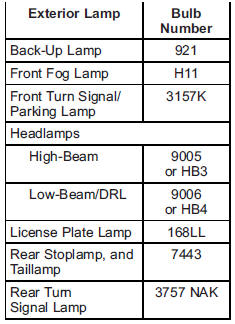 For replacement bulbs not listed here, contact your dealer.
Chevrolet Captiva Owners Manual
Chevrolet Captiva Service & Repair Manual
© 2023 Copyright www.ccaptiva.com - 0.0052