Chevrolet Captiva Service & Repair Manual: A-Pillar
Section in specified areas only. Sectioning outside of these areas may compromise the structural integrity of the vehicle. The door frame can be replaced at factory seams, but requires the removal of the windshield and the roof. The sectioning procedures have been developed as a more cost effective alternative to complete replacement. The specific area to be sectioned is determined by the extent of the damage to the vehicle.
Warning: Foam sound deadeners must be removed from areas within six inches of where flame is to be used for body repairs. When installing foam sound deadeners, avoid inhaling fumes as bodily injury may result.
Do not damage any inner panels or reinforcements.
In any area damaged beyond recognition, or if structural weld thru adhesive is present, space the plug weld holes 1 1/2 inches apart.
To create a solid weld with minimum heat distortion make one inch stitch welds along the seam with one inch gaps between. Then go back and complete the stitch weld.
Removal
| | |
| --- | --- |
| 2. | Disconnect battery ground. |
| | |
| --- | --- |
| 3. | Remove all related panels and components. |
| | |
| --- | --- |
| 4. | Repair as much damage as possible to factory specifications. |
| | |
| --- | --- |
| 5. | Remove sealers and corrosion protection materials from repair area. |
| | |
| --- | --- |
| 6. | Remove front upper rail as outlined in Upper Frame Rail. |
| | |
| --- | --- |
| 7. | Cut panel where sectioning is to be performed, Fig. 1. |
| | |
| --- | --- |
| 8. | Locate and drill out all factory welds. Note number and location of welds for installations of service component, Fig. 2. |
| | |
| --- | --- |
| 9. | Remove damaged A-Pillar. |
Installation
| | |
| --- | --- |
| 1. | Cut replacement windshield pillar section in corresponding locations to fit original panel. Sectioning joint should be trimmed to allow 1 1/2 times metal thickness at sectioning joint. |
| | |
| --- | --- |
| 2. | Create a 2 inch backing plate (1) from unused portion of service component. Trim backing plate as required to fit behind sectioning joint where there is no reinforcement, Fig. 3. |
| | |
| --- | --- |
| 3. | Drill 5/16 inch plug weld holes along sectioning cut on remaining original component. Locate these holes 1/2 inch from edge and spaced 1 1/2 inches apart. |
| | |
| --- | --- |
| 4. | Drill 5/16 inch plug weld holes in service component as required in locations noted from original panel and along sectioning cut, Fig. 4. |
| | |
| --- | --- |
| 5. | Prepare all mating surfaces as required. |
| | |
| --- | --- |
| 6. | Apply 3M® Weld Thru Coating P/N 05916, or equivalent, to all mating surfaces. |
| | |
| --- | --- |
| 7. | Fit backing plate (2) halfway into sectioning joint, clamp and plug weld to vehicle, Fig. 5. |
| | |
| --- | --- |
| 8. | Position service component. |
| | |
| --- | --- |
| 9. | Plug weld accordingly, Fig. 6. |
| | |
| --- | --- |
| 10. | Stitch weld sectioning joint. |
| | |
| --- | --- |
| 11. | Install front upper rail as outlined in Upper Frame Rail. |
| | |
| --- | --- |
| 12. | Clean and prepare all welded surfaces. |
| | |
| --- | --- |
| 13. | Apply sealers and corrosion protection materials to repair area, as required. |
| | |
| --- | --- |
| 14. | Refinish repaired area. |
| | |
| --- | --- |
| 15. | Install all related panels and components. |
| | |
| --- | --- |
| 16. | Connect battery ground. |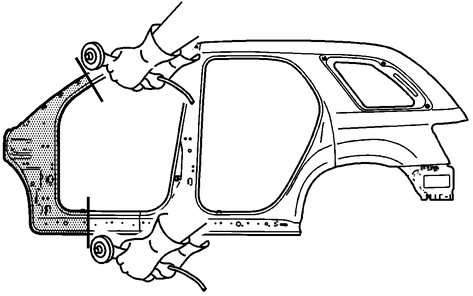 Fig. 1 A-Pillar cut locations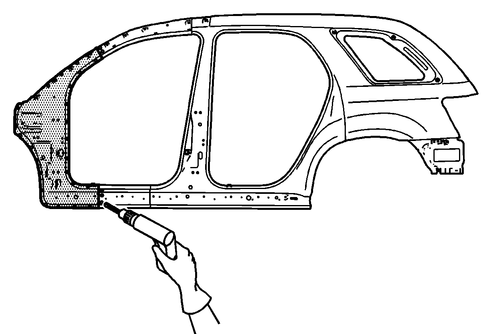 Fig. 2 A-Pillar weld locations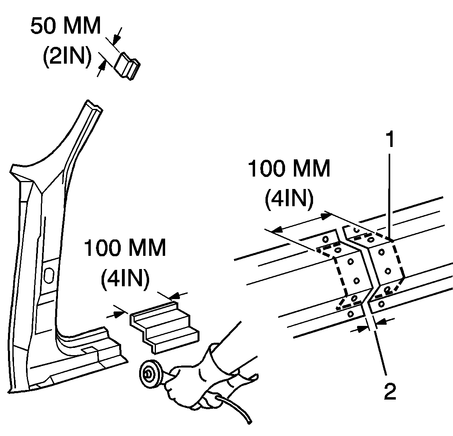 Fig. 3 A-Pillar backing plate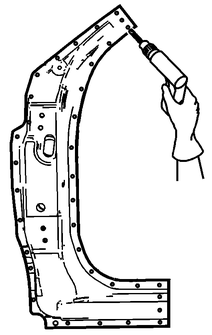 Fig. 4 A-Pillar preparation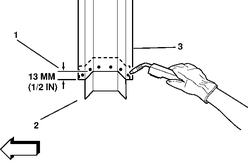 Fig. 5 A-Pillar backing plate installation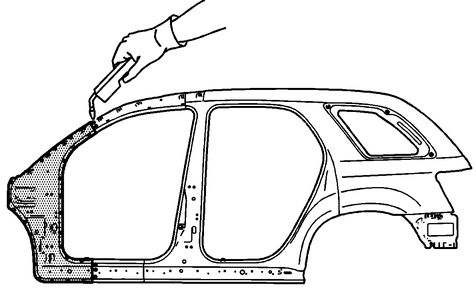 Fig. 6 A-Pillar plug weld locations
Chevrolet Captiva Owners Manual
Chevrolet Captiva Service & Repair Manual
© 2023 Copyright www.ccaptiva.com - 0.0054