Chevrolet Captiva Service & Repair Manual: Rack & Pinion Assembly R&R
Caution: With wheels of vehicle facing straight ahead, secure steering wheel utilizing steering column anti-rotation pin, steering column lock, or a strap to prevent rotation. Locking of steering column will prevent damage and a possible malfunction of SIR system. Steering wheel must be secured in position before disconnecting following components: steering column, intermediate shaft(s), steering gear.
Caution: After disconnecting these components, do not rotate steering wheel or move front tires and wheels. Failure to follow this procedure may cause SIR coil assembly to become un-centered and cause possible damage to SIR coil. If you think SIR coil has become un-centered, refer to your specific SIR coil's centering procedure to re-center SIR coil.
| | |
| --- | --- |
| 1. | With front wheels in straight ahead position, turn ignition switch to OFF position and remove key from ignition lock cylinder. |
| | |
| --- | --- |
| 2. | Rotate steering wheel in order to lock steering column. |
| | |
| --- | --- |
| 3. | Remove intake manifold cover. |
| | |
| --- | --- |
| 4. | Remove as much power steering fluid from power steering fluid reservoir as possible. |
| | |
| --- | --- |
| 5. | Separate steering linkage outer tie rod at steering knuckle. |
| | |
| --- | --- |
| 6. | Remove power steering gear inlet hose at steering gear. |
| | |
| --- | --- |
| 7. | Remove power steering fluid cooler at steering gear. |
| | |
| --- | --- |
| 8. | Separate steering shaft coupling at steering gear. |
| | |
| --- | --- |
| 9. | Partially lower rear of drivetrain and front suspension frame to gain enough clearance to remove steering gear. |
| | |
| --- | --- |
| 10. | Remove and discard steering gear bolts (1), Fig. 1. |
| | |
| --- | --- |
| 11. | Remove steering gear (2), Fig. 1. |
| | |
| --- | --- |
| 12. | Reverse procedure to install, noting following: |
| | | |
| --- | --- | --- |
| | a. | Install NEW steering gear bolts and torque to 81 ft. lbs. |
| | | |
| --- | --- | --- |
| | b. | Fill and bleed power steering system. |
| | | |
| --- | --- | --- |
| | c. | Measure and adjust front toe. |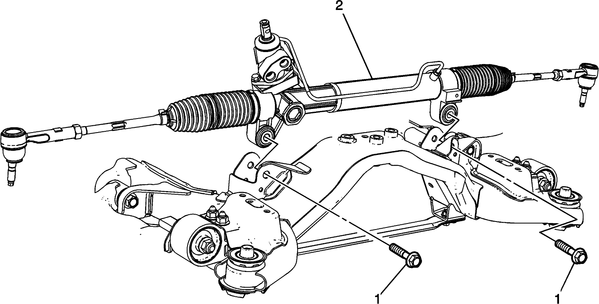 Fig. 1
Chevrolet Captiva Owners Manual
Chevrolet Captiva Service & Repair Manual
© 2023 Copyright www.ccaptiva.com - 0.0077