Chevrolet Captiva Owners Manual: Additional Storage Features
Cargo Cover
For vehicles with a cargo cover, use it to cover items in the rear of the vehicle.
To remove the cover and remove it from the vehicle, pull both ends toward each other. To reinstall, place each end of the cover in the holes behind the rear seat.
Cargo Tie-Downs
Four cargo tie-downs are located in the rear compartment of the vehicle.
The tie-downs can be used to secure small loads.
Cargo Management System
If the vehicle has a cargo management system in the rear of the vehicle, it will have rails with adapters and hooks. These are used to hold the net and mesh pocket.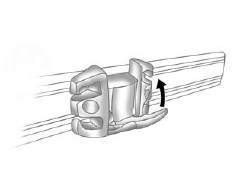 The adapters are used to hold the net. Slide the adapters to the desired location on the upper and lower rail and turn the handle up to lock it in place. Compress the rods of the net and insert them into the corresponding openings of the adapter. The longer rod is for the upper adapter.
The hooks hold the mesh pocket. To insert a hook on the rail, place the hook in the upper groove of the rail and press it into the lower groove.
Convenience Net
For vehicles with a convenience net, located in the rear, use it to store small loads as far forward as possible. The net should not be used to store heavy loads.