Chevrolet Captiva Owners Manual: Fog Lamps, Front Turn Signal and Parking Lamps
Fog Lamps
To replace the front fog lamp bulb:
Locate the fog lamp located under the front fascia.
Remove the bulb by turning it counterclockwise and pulling it straight out of the assembly.
Disconnect the electrical connector from the fog lamp bulb assembly.
Install the new bulb by turning it clockwise into the assembly.
Reconnect the electrical connector.
Front Turn Signal and Parking Lamps
To replace a front turn signal or parking lamp bulb:
Follow Steps 1-4 under Headlamps on page 10-27 to access the front turn signal or parking lamp.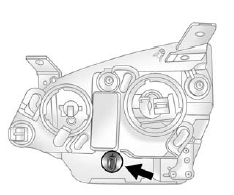 Turn the bulb to be replaced counterclockwise to remove it from the headlamp assembly.
Pull the bulb out of the bulb socket assembly.
Push the new bulb into the bulb socket assembly.
Insert the bulb assembly into the headlamp assembly.
Turn the bulb assembly clockwise until seated.
Reverse the steps to reinstall the headlamp assembly.
Chevrolet Captiva Owners Manual
Chevrolet Captiva Service & Repair Manual
© 2023 Copyright www.ccaptiva.com - 0.0061