Chevrolet Captiva Owners Manual: Mirror Adjustment, Steering Wheel Adjustment
Mirror Adjustment
Exterior Mirrors
Power Outside Mirrors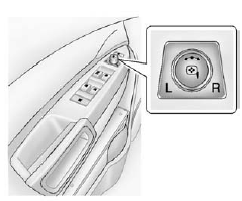 To adjust the power mirrors:
Turn the knob to choose the left (L) or the right (R) mirror.
Use the knob to move the selected mirror so the side and the area behind the vehicle is seen.
Return the control to the center position so the mirror cannot be moved.
Manual Folding Mirrors
The outside mirrors can be folded inward to prevent damage when going through an automatic car wash. To fold, pull the mirror toward the vehicle. Push the mirror outward to return it to the original position.
Automatic Dimming Feature
If equipped, the outside driver mirror automatically dims to reduce glare from vehicle headlamps. See Automatic Dimming Rearview Mirror on page 2-13.
Interior Mirrors
Adjustment
Adjust the rearview mirror for a clear view of the area behind your vehicle.
Manual Rearview Mirror
If equipped, push the tab forward for daytime use and pull it for nighttime use to avoid glare from headlamps.
See Manual Rearview Mirror on page 2-13.
Automatic Dimming Rearview Mirror
If equipped, automatic dimming reduces the glare of the headlamps from behind. This feature comes on when the vehicle is started. See Automatic Dimming Rearview Mirror on page 2-13.
Steering Wheel Adjustment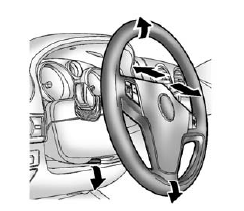 To adjust the steering wheel:
Hold the steering wheel and pull the lever down.
Move the steering wheel up or down.
Pull or push the steering wheel closer or away from you.
Pull the lever up to lock the steering wheel in place.
Do not adjust the steering wheel while driving.